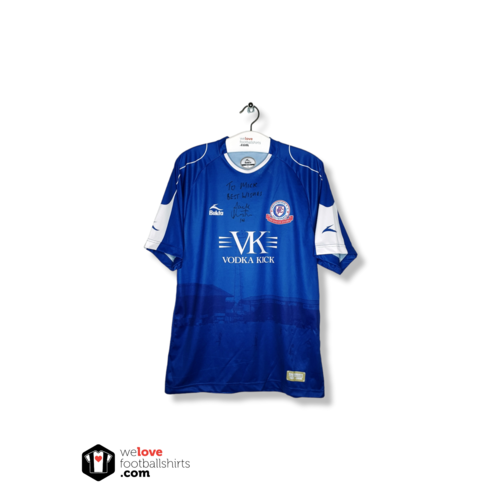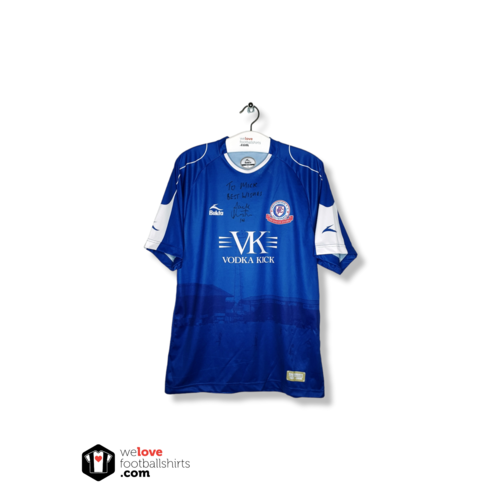 Bukta
Article code
Chesterfield_FC_Bukta_2009-2010_Jack_Lester_Signed_L
Bukta signed football shirt Chesterfield FC 2009/10
Size: L (unisex)
Condition: 10/10 (used)
Read more
Bukta
Chesterfield FC
Bukta signed football shirt Chesterfield FC 2009/10
Size: L (unisex)
Condition: 10/10 (used)
Bukta
Bukta is an English sports clothing brand which was founded in 1879 in Stockport, Cheshire, England. It was also, for much of the 20th Century, a leading brand of tents and camping equipment.
E.R. Buck & Sons was founded in 1879, mainly producing shorts for soldiers fighting in the Boer Wars. In 1884 football team Nottingham Forest were pictured wearing kit produced by Bukta. Later Newcastle United and others were wearing kit made by Bukta.
In 1885 Bukta moved into a new factory in Manchester, leased from Lord Vernon, employing fewer than 30 people. It was one of the first companies to produce uniforms for the Scout Movement and Girl Guides and produced underwear and hospital and tropical uniforms for the British Army for the First World War. In 1920 Bucks bought the factory in the sale of the Vernon Estate. In 1923 E.R. Buck and Sons became a limited company; by this time it employed between 130 and 200 people.
In 1938 the factory in Poynton was closed and the company moved to a factory at Brinksway, Stockport. Members of the Buck family ran the company until 1982 when a consortium led by Sir Hugh Fraser purchased it.